Product
Tying Machine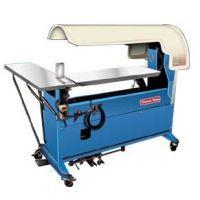 Tying Machine
Product ID: CY-FL 3
Model 25FL series is especially designed for binding flowers / grass. The especially made table and binding set will meet the properties of flowers or relative plants. The binding tightness will be perfect for flower bundles that can tie flowers properly without hurting their branches.

Chang Yong Tying Machines are also widely applied in flowers and food industries. The special design tying table and trigger can easily load flowers or vegetable and automatically tie them into bundles. Costumed table length meet the various length requirement of flowers or vegetables. The tying tension will automatically adjusted by tying machine to protect the fragility properties.
Specifications:
Max tying size: 220 mm (height) x 850 mm (length) (8.66 in x 33.46 in).
Min tying size: 25 mm (diameter) (0.78 in).
Machine height: 115 cm. (45 in).
Machine width: 59 cm. (23 in).
Machine length: 148 cm. (58 in).
Machine weight: 180 kgs. (573 lb).
Motor power: 1/4 hp.
DEMO VIDEO 1

DEMO VIDEO 2
DEMO VIDEO 3
Features:
Save your money on packing materials up to 20 times.
Save your time and labors. Tying speed up to 60 ties per minutes. (single round, continuous tying).
Super easy operation and get all the jobs done.
Adjustable and automatic tension control for protection products.
Quality guarantee, durable machine life, easy maintenance (only add oil once a week), and up to 20 years machine life under normal usage.
Reliable and heavy loading: Maximum carrying weight up to 60kg plus strong twin nodes.
Energy saving king!!! Electricity consuming equal to a fan only!!!
Various models applied in various industries.
Order Information:
Minimum Order: Negotiable
FOB: Keelung, Taiwan