Product
Packing Material Supplier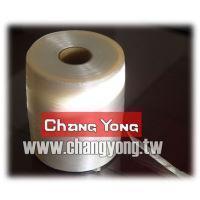 Packing Material Supplier
Product ID: PE 50
As a
packing material supplier
, we supply P.E. tape (single twine) for tying machine. We produce the standard PE twine / thread / string (D28) for tying machines. We only use new material for manufacturing PE twine in order to maintain enough thread strength. We also provide other Packing material such as PP thread, OPP films, tapes and many consumptive packing materials.
Chang Yong, the packing material supplier, is specialized in manufacturing all kinds of packaging machinery. Our euqipment is able to improve your wrapping efficiency. Whether you need wrapping for mail, laundry, texitle, etc., we have a variety of quality machines for you to choose. Contact us right away, we can definitely meet all your needs!
Specifications:
Gauge: D-28 & D-50.
Colored: White and any other color.
Length: 3,840 meters, 2kg/roll.
Features:
Brand new material without recycled material in all production line.
Strength up to 60kg on packing goods.
Standard specification for worldwide.
National standard quality.
Order Information:
Minimum Order: Negotiable
FOB: Keelung, Taiwan