Product
Compression Type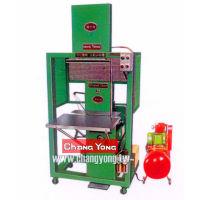 Compression Type
Product ID: CY-50P
Chang Yong Machinery also provides the compression type for those products required to compress the space in order to have more products in one package such as printing industries (folded paper products), paper commodities (newspaper, cut paper, paper bags, boxes), plastic industries (woven bags), textile products (towels, handkerchiefs, clothes) hangers...
Specifications:
Max tying size: 45 cm x 50 cm (17.7 in x 19.6 in).
Min tying size: 5 cm x 9 cm (1.9 in x 3.5 in).
Machine height: 205 cm. (81 in).
Machine width: 100 cm. (39 in).
Machine length: 100 cm. (39 in).
Tying table depth: 23 cm. (9 in).
Machine weight: 250 kgs. (551 lb).
Motor power: 1/4 hp.
Demo Video 1
Demo Video 2
Demo Video 3
Features:
Adjustable to fully automatic or semi-automatic. Super easy to operate.
Save your money on packing materials up to 20 times.
Save your time and labors.
Super easy operation and get all the jobs done.
Adjustable and automatic tension control for protection products.
Quality guarantee, durable machine life, easy maintenance (only add oil once a week), and up to 20 years machine life under normal usage.
Reliable and heavy loading: Maximum carrying weight up to 60kg plus strong twin nodes.
Energy saving king!!! Electricity consuming equal to a fan only!!!
Various models applied in various industries.