Product
Strapping Machine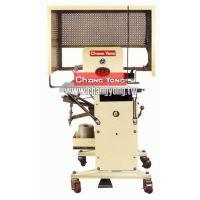 Strapping Machine
Product ID: CY-45
Model 45 is used for prints (brochures, flyers, newspaper and letters), plastic commodities (plastic bags, hangers), clothes (towels, handkerchiefs) and foods (Chinese rice-pudding)...etc.

Chang Yong Tying Machines are widely applied in printing industries such as brochures, books, magazine, newspaper, calendars, catalogs and any paper printed products. Chang Yong Tying Machines are specially design to adjust the tension of thread / string to avoid damage your products.

The Tying time for one bundle is less than two second and the speed can fill the required of the output of any automatic printing or cutting machine.

We are using PE thread and the properties are strong enough to hold up to 60kg and also tender to prints. The PE thread is extremely low cost and non-toxic material. Chang Yong Tying Machines utilize knotting to connect the cutting ends and this makes no air pollution and no harm to human health.

Chang Yong Machinery is your best helper and money saver!

Chang Yong Tying Machines are also widely applied in mailing system and related institutes such banks, credit card companies, stock exchange companies, advertisement companies and schools. Chang Yong Tying Machines are specially design to adjust the tension of thread / string to for mail or bills. The perfect tension does not bent or damage letters or mail, also speed up the mailing process.

95% of Taiwan Post Offices use Chang Yong Tying Machine on mailing system. Banks, various institutes and schools put their document and prints in order by using Chang Yong Tying Machine. Chang Yong Machinery is your best helper.

Chang Yong Tying Machines provides fully automatic tying machines and semi-automatic tying machines for cardboard products especially.

The machines adjust the tension and string length automatically during tying process. The properties of string (PE D28) are perfect for Cardboard.

The twine strength can hold up to 132 ponds weight but no damage on the cardboard. For continuous operation, the tying speed can up to 30 bundles on semi-automatic models and 26 bundles for fully automatic models. No labors required for fully automatic models and less manpower required for semi-automatic models are tremendous reduce labor work. Chang Yong Machines Patented design sensors not only precisely align the tying location, but also safely prevent from labor injury. Chang Yong Machinery is the best helper for you.

Chang Yong Tying Machines are also widely applied in various industries such as chemical industries (plastic bags, injection products, styrofoam products, tubes, pipes, plastic net, containers, graters, trays...etc), electricity industries (cables), rubber industries (belt, tubes, shoes, pads...etc), steel or brass industries (steel rods, pipe connectors, accessories...etc), wood industries (wood rods), paper related industries (magazines, brochures, newspapers, envelops, calendars, paper tube, carrying bags, posters, lunch boxes...etc) or any products loaded in the boxes or carton.
Specifications:
Max tying size: 40 cm x 45 cm (15.7 in x 17.7 in).
Min tying size: 5 cm x 9 cm (1.9 in x 3.5 in).
Machine height: 140 cm. (55 in).
Machine width: 80 cm. (31 in).
Machine length: 90 cm. (35 in).
Tying table depth: 23 cm. (9 in).
Machine weight: 140 kgs. (348 lb).
Motor power: 1/4 hp.
Demo Video 1
Demo Video 2
Demo Video 3
Demo Video 4
Features:
Save your money on packing materials up to 20 times.
Save your time and labors. Tying speed up to 60 ties per minutes. (single round, continuous tying).
Super easy operation and get all the jobs done.
Adjustable and automatic tension control for protection products.
Quality guarantee, durable machine life, easy maintenance (only add oil once a week), and up to 20 years machine life under normal usage.
Reliable and heavy loading: Maximum carrying weight up to 60kg plus strong twin nodes.
Energy saving king!!! Electricity consuming equal to a fan only!!!
Various models applied in various industries.
Order Information:
Minimum Order: Negotiable
FOB: Keelung, Taiwan